One stage, one crown, 12 beautiful young ladies.The Limketkai Atrium was packed with supporters of each candidate vying for this year's Miss Cagayan de Oro title. The ladies took the stage with elegance, grace, and courage as they strutted their way to the crown. At the end of the night candidate #10 Charinna Gamaya Barro of Brgy. Macasanding was adjudged the winner.
The final 5 were asked the question: If there is one thing you can do to change the world, what would it be?
Charinna a BS Accountancy student at Liceo de Cagayan University believes in changing herself first in order to change the world.
"If there is this one thing that I could do to change the world, it will be something from within me, a change from me, from my own self. Because ladies and gentlemen I do believe that great things start with small beginnings and I should start it from myself and everything will come along. Thank you and good evening."
Check out the rest of the the Miss Cagayan de Oro 2015 Question & Answer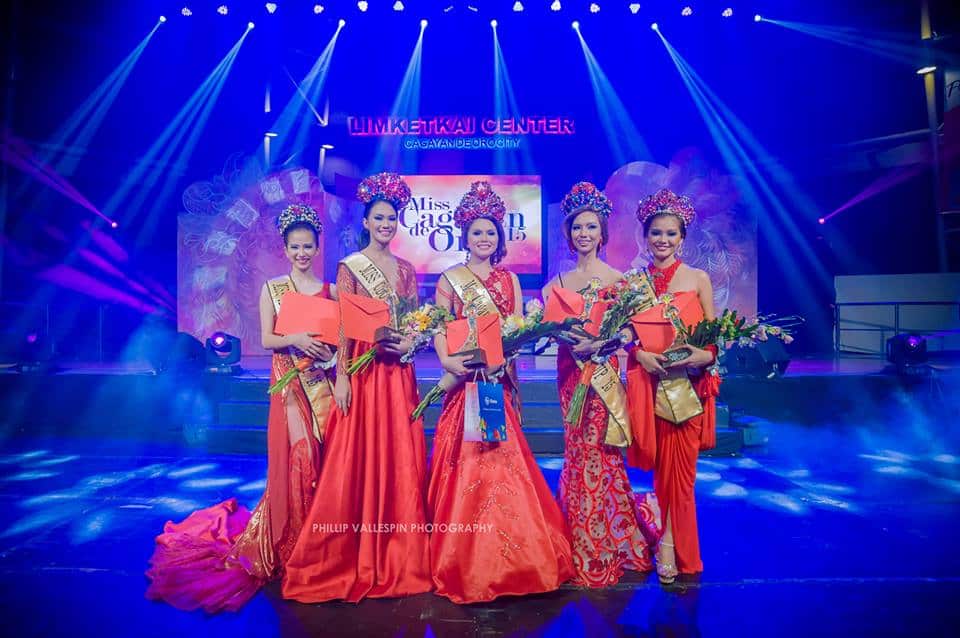 The Ms. Cagayan de Oro 2015 winners. Miss CDO 2015 Charinna Barro, 1st RU #12 Dylanna Bax, 2nd RU #1 Kiezela Quiz, , 3rd RU #6 Caroline Veronilla, 4th RU #11 Yoshabeth Valdehueza (Photo Credits: Phillip Villaspin Photography)
Minor Awards
Candidate #10 – Charinna Barro
Miss Flawlessly U
Miss Marianne Suites
Miss Natasha
Miss 2Go Travel
Best in Mags Casual Wear
Miss Photogenic
Miss Globe Texter's Choice
Candidate #12 – Dylanna Bax
Miss Philippine Airlines
Darling of the Press
Miss Island Souvenirs
Candidate #1 – Kiezela Quiz
Miss The Loop
Miss Aruga
Miss Le Rouge Spa
Miss Stronghold Insurance
Miss Ororama
Best in Evening Gown
Candidate #6 – Caroline Veronilla
Miss Camella
Miss Sanctuary Spa
Best in Talent
Best in Swimsuit
Candidate #11 – Yosabeth Valdehuesa
Miss Personality
Miss Shopwise
Candidate #5 – Megan Julia Digal
Miss Gaisano
Best in Talent
Photo Credits: Miss Cagayan de Oro 2015 Official FB page
Video: Rob Bana (Robstroy)